Disclaimer: the word 'dream' appears in this blog five times. (five!) You've been warned.
Portland's bike industry is large. It is an industry of chaotic, oily and slivery workshops, full of toxic boobytraps and high-pressure tanks of violently combustible gases. The workshops are populated by fiercely independent craftspeople—women and men who wish to be left alone, so they may heads-down about their meticulous work. They are surly artisans who, from their brutal studios and raw materials, coax stunning, elegantly functional sculptures.
In North Portland, tucked around the corner from Killingsworth and Albina, you'll find Norther Cycles. Norther—a bike shop up front, framebuilding studio in the back—is also a living museum to what many cyclists refer to as, "the good old days" of cycling: when lycra was wool, and blood doping was good, old-fashioned bathtub methamphetamine.
Norther is Starmichael Bowman and Mark Simmons, the friendliest retrogrouches I've ever met. They specialize in building lugged, lightweight randonneur frames and custom racks. Their shop is small, but roomy, and smells warmly of tanned leather, waxed canvas and industrial grease. The high ceilings are hung about with finished frames—road-ready, but also, undeniably art—dangling above a row of barstools which are regularly occupied by various shop rats who come to nurse tallboys of Olympia and jaw like old men in a barber shop.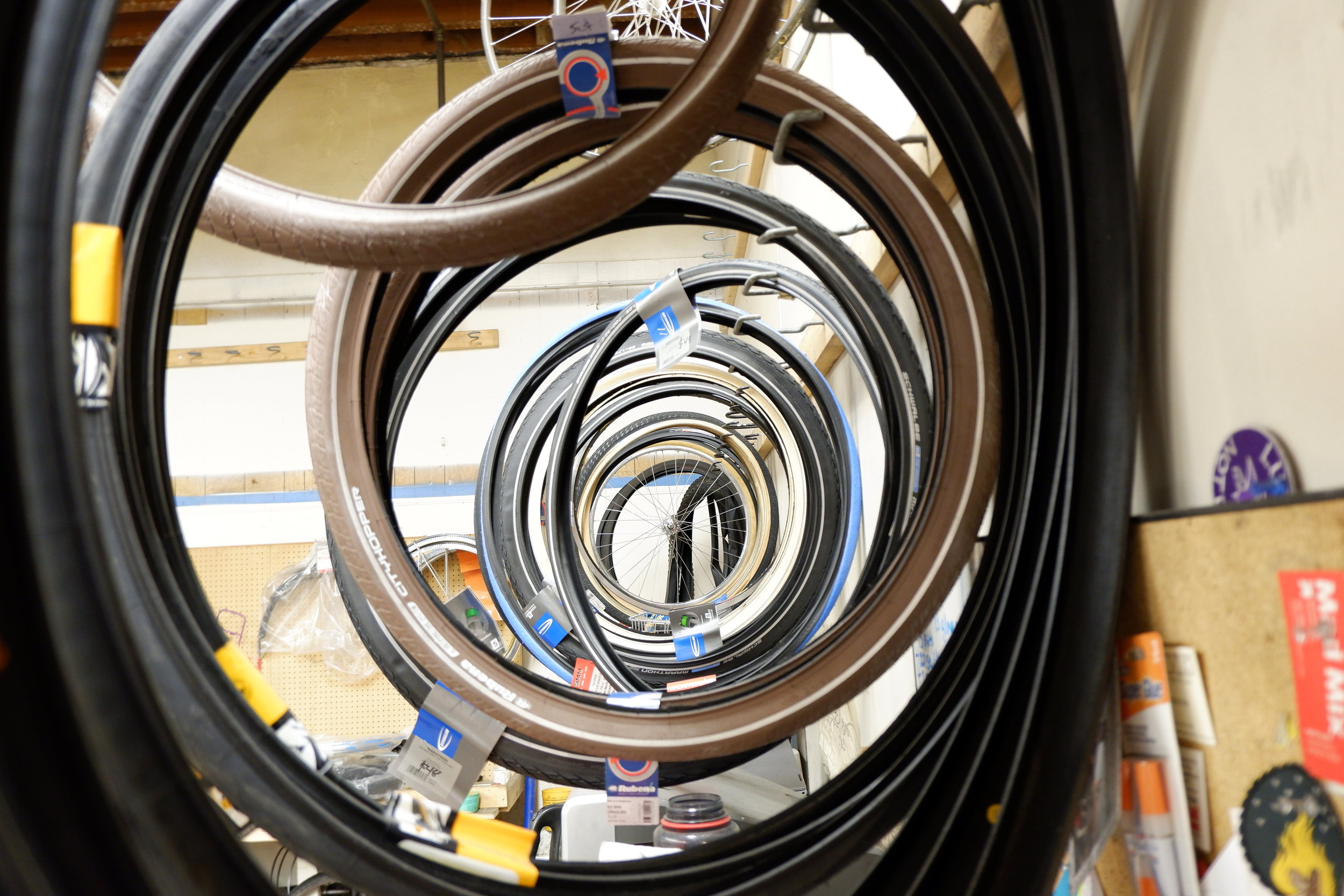 The bike shop
Off to one side of the shop is a small, well-lit corridor, lined with everything from tires, brakes and handlebars, tidily arranged wall displays of everything needed to assemble a complete bike from the frame up. The orderly displays continue, around the corner to a central arrangement of French made, leather-trimmed porteur bags and custom in-house built cargo racks.
Aside from the regular gather of parts and components are the delightfully detailed displays: a bicycle's front end, wall-mounted, but complete, down to the headtube badge and working dynamo hub and light. And a menu board—refreshingly straightforward for a bike shop—listing no-nonsense costs for labor, minor adjustments and overhauls.
If it wouldn't be creepy, I'd spend much more time at the shop. But for the years I've spent working in cafes, I've been exhausted by the blowhards and hangers-on who seek out and trap captive employees to endlessly talk at them.
So, why am I even writing this blog about Norther Cycles? I'll admit, it is a little weird. They didn't commission me to write this. They didn't trade me any goods or services and I have no expectation that any of my future purchases should cost anything lower than walk-in prices. (I am reluctant to barter with craftspeople of any trade since they're already uniformly underpaid.)
I am writing about Norther Cycles because they give me hope.
We are all familiar with people who have big dreams. They do a lot of talking about their big dreams, but rarely ever follow through with their big dreams. So when Starmichael first told me about Norther (we were acquaintances from the times I visited him at Kenton Cycle), I'm not saying I was skeptical, just a little weary of pipe dreams. So I was intrigued to hear of Starmichael's progress with the shop—first, when he actually set about sourcing funding, locating and buying up stock, and then, when a real location was secured and renovations began to shape the shop.
Mark and Starmichal have accomplished something extraordinary and important with Norther. From the walls to their gleaming central display case, Norther Cycles is an inspiration, a testament to hard work, craftsmanship and style. Here, steadfast individualism is buoyed by can-do resourcefulness and a patient, savvy business model. We should be so lucky, to have them in the neighborhood.
It is a further point of pride, for me at least, our city is so crowded with not just bicycle craftspeople, but inspiring makers and doers of all stripes. Whether they know it or not, they represent the creative, can-do spirit that made America an economic powerhouse. More importantly, they are making it happen for themselves.
I am not suggesting that everybody should go out and open their own bike shop. But for anyone disheartened by the very real barriers (time, resources, fortitude) between them and their dreams, Norther stands as an enormously reassuring example that big, beautiful things are certainly possible. And that deserves applause.
Note: I chose to write this piece on Norther because, obviously, I like what they do and I'm familiar with their story. That is not to say, I couldn't have written the same blog about any number of other, equally deserving independent bike businesses I love and admire—notably: Breadwinner Cycles, Page Street Cycles and Sugar Wheel Works. Some day, I hope to write about them as well.